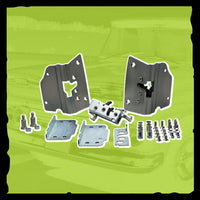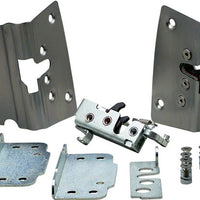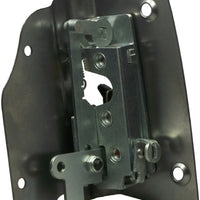 1947-1951 Chevy Truck Door Latches - Altman Easy Latches
Are you tired of slamming the doors on your 1947-1951 Chevy Truck? 
Are the latches on your classic truck not living up to the other work you've put into your pride and joy?
Face it, most classic truck door latches have been abused over the years and the available options don't offer the quality that your classic or custom Chevy truck deserves. That is where the Altman Easy Latch for 1947-1951 Chevy Trucks comes to the rescue.
Installation
  

Click Here to view Instructions

Fits:

1947 Chevy / GMC Truck

1948 Chevy / GMC Truck

1949 Chevy / GMC Truck

1950 Chevy / GMC Truck

1951 Chevy / GMC Truck


Designed, Manufactured, and Assembled here in the USA
The Altman Easy Latch is the first and only bolt-on door latch system that allows you to keep your outside and inside door handles, as well as your outside lock cylinders. All with no welding involved. Each Altman Easy Latch kit comes with everything you will need for both doors. Make this part of your vehicle restoration project or add them to your finished ride. 
SHOP NOW
When Harold learns that the Altman Easy Latch is a safer way to make sure that his nagging wife doesn't fall out of his classic truck, will he make the right choice?
WANT A TRIQUE CATALOG?
Contact us now including your name and address and we will send one out to you right away!

Does this kit come with everything needed I saw some one installing this kit and it had it had the metal bar that went from the new latches to the handle. Do they come with the kit they're not shown in the pic's. For a 1951 chevy truck . Thanks

Yes, this kit does come with two steel straps that run from the interior door handles to the latch.

Can this kit be used with universal door lock actuators to lock/ unlock it with a remote?

Yes, our latches have lock provisions to use with universal lock actuators.

I have a 1951 chevy coe. Will this kit work well for the coe

Yes, this kit will work with the COE.

Is this price for 1 or 2 door latches?

The pricing is for a pair. Everything you need for both doors.

can you weld the 47 to 51 latches into the door instead of screwing them?

You certainly can. We advise that you still follow the installation instructions and perform a overlap weld versus trying to butt weld it in.

Why is there a $120 price difference between the shaved handle kit and the handle kit? What extra is included in the factory door handle kit?

With the shaved handle kit, there is none of the levers or locking mechanisms to work anything outside the door. Only a lever to hook your inside handle to. The factory handle kit has everything necessary to open and lock your door from the outside.

Does both sides of the latch lock? I installed a factory lock on the drivers side of my 1950 so I can lock/unlock either door.

Yes, both latches in the kit have lock provisions. So if you added a lock cylinder on the drivers side, you will be able to lock and unlock both latches.

I have a 47 Chevy pickup and I want to use kindig-it door handles. Do I need your 52-54 kit as there not a turn down handle

You will need a mix-match kit. We can help you out with what you need, just call in to 1.866.987.4783

Will your 47-51 chevy truck latch work with electric door locks?

They certainly will. We recommend our Lock Actuator Brackets to make it easier.

Hi Do you freight to Australia ? Im looking at your Bolt-on Bear Jaw Door Latches for 1947-51 Chevy Truck - Altman Easy Latches , Thank you Cooper

We certainly can ship to you. Just use our checkout on the website, and it will give you the pricing.

1. What is the difference between the 47-51 latch kit compared to the 52-54 latch kit? I have a 49 cab with 52 doors. Which kit should I use? 2. Do you offer a kit that can be welded in? If not, can these bolt on kits be welded in? I notice in the instructions that you have to grind off the nub on the window track. I assume that this is for clearance reasons. If that is the case, is this also the reason you don't offer a weld in kit? I can see that cutting the installation plate (provided in the bolt on kit) down and welding it in flush with the door metal would push the latch further toward the window track by an amount equal to the thickness of the installation plate. Would that cause the latch to contact the window channel? Thank you,

1. The 47-51 Chevy Trucks have turn-down style exterior door handles.
52-54 uses a push button style exterior handle.
You will need a mix match kit for your application. We can help. Give us a call at 1.866.987.4783 M-F 8-5CST
2. We do not offer a separate kit for weld-in applications. You can weld our kit in. We advise that you install it as the instructions state, and then overlap weld the plate. Some people want to cut a hole the size of the plate and then butt-weld it in, while this may work fine, it does move components around a little and may cause alignment issues.
3. You do have to grind that "nub" off the window channel for clearance. It may not be necessary on all applications, but it helps on some.

Hi, Do you ship to Australia

Yes, a company by the name of Custom Sports Trucks just signed up as one of our Dealer's in Austrailia. 
website customsportstrucks.com.au 
email cst.downunder@gmail.com

Can your Altman Easy Latch kits be installed on a 1949 Chevy pickup truck that has suicide doors?

No, it is designed to be installed in the factory latch location.

Do you sell the striker plates for 47-54 chevy truck separately from the kits?

If you have purchased our kit and you are in need of replacement parts, we can help you out. Just call 1.866.987.4783 and you can order what you need.