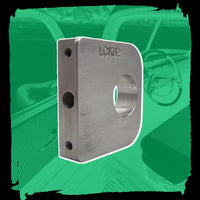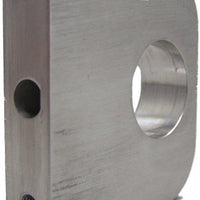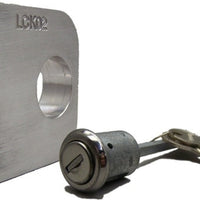 Altman Easy Latch Lock Cylinder Keeper
This part only works for the following vehicles:

1948-1952 Ford F-1 Pickup Trucks
1937-1940 Ford 5-Window Coupe
1937-1940 Ford Tudor Sedan
Most early model vehicles did not come equipped with drivers side door lock cylinders. This was due to a lack of parking in those days forcing people to park on the street. It was dangerous, and in some situations, illegal to exit your vehicle on the street side. Therefore, there was no use in having lock cylinders on the drivers side. For those of you that have equipped your vehicle with our Altman Easy Latch kit, you may now find yourself wanting to add a lock cylinder on the drivers side of your vehicle. Even if you have not decided to use our Altman Easy Latch at this time, you may still want to add a lock to your drivers side. For those of you, we have created a Lock Cylinder Keeper that will allow you to do just that.Our Lock Cylinder Keeper is machined from 6061 aluminum. It is placed inside your door and is held in place with two screws. After you have marked and cut your hole for your new lock cylinder, you just put the block in place, attach it, and insert your new lock cylinder. Then tighten the set screw to hold your lock cylinder in and you are all set. This is for the Keeper only. Lock cylinder is not included.


Designed, Manufactured, and Assembled here in the USA
The Altman Easy Latch is the first and only bolt-on door latch system that allows you to keep your outside and inside door handles, as well as your outside lock cylinders. All with no welding involved. Each Altman Easy Latch kit comes with everything you will need for both doors. Make this part of your vehicle restoration project or add them to your finished ride. 
SHOP NOW
When Harold learns that the Altman Easy Latch is a safer way to make sure that his nagging wife doesn't fall out of his classic truck, will he make the right choice?
WANT A TRIQUE CATALOG?
Contact us now including your name and address and we will send one out to you right away!

my truck has the lock cylinder on the driver's side--willthe lock cylinder work on the passenger side or do you have a kit for the passenger side. My truck is a 47 COE Ford.

Both of our latches in the kit come with lock provisions. So if you choose to add a lock cylinder to your vehicle, our latch will work with it.

How do you install, is there a template ?

Go to our website, choose the year & make of your vehicle under Altman Easy latches and in the installation instructions there will be a template.