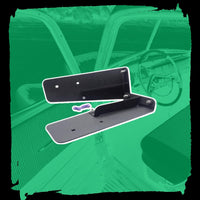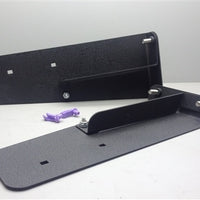 Lock Actuator Brackets - 1947-51 Chevy Trucks with Altman Easy Latches
This is a pair of brackets that allow you to mount a standard universal lock actuator in the proper location to work in conjunction with the Altman Easy Latch Kit on a 1947-51 Chevy Truck. This kit does not include lock actuators and is only meant to be used on a 47-51 Chevy Truck that has been equipped with an Altman Easy Latch. With this kit, you will receive 2 mounting brackets, mounting hardware, installation instructions, and 2 lock rod clips. The Altman Easy Latch kit is a vehicle specific bolt-on, bear jaw rotary claw latch kit. This kit features contoured jam plates to match the features of your vehicles doors. These are in no way a universal application. Our bear jaw rotary claw latches are each designed to work with the exterior handles, interior handles, and the exterior door lock cylinders of the specified vehicles. Each piece of our bear jaw latches are zinc plated to fight corrosion. Our internal claws are case hardened and black oxide coated. Each kit comes with everything you need for two doors. Latch plates, vehicle specific bear jaw rotary claw latches, templates, hardware, detailed instructions, striker plates, and even stainless steel striker bolts. The Altman Easy Latch kit will have your doors opening and closing smoothly and safely. All of our kits are designed, manufactured, and assembled here in the USA.
Left and Right Mounting Brackets

Mounts the actuator in the correct place and angle to work with the Altman Easy Latch

Includes mounting hardware, installation instructions, and lock rod clips
For use with standard universal lock actuators.

Lock actuator mounting holes are spaced 2.3" from center to center.

Please check your lock actuator mounting points before ordering.


Designed, Manufactured, and Assembled here in the USA
The Altman Easy Latch is the first and only bolt-on door latch system that allows you to keep your outside and inside door handles, as well as your outside lock cylinders. All with no welding involved. Each Altman Easy Latch kit comes with everything you will need for both doors. Make this part of your vehicle restoration project or add them to your finished ride. 
SHOP NOW
When Harold learns that the Altman Easy Latch is a safer way to make sure that his nagging wife doesn't fall out of his classic truck, will he make the right choice?
WANT A TRIQUE CATALOG?
Contact us now including your name and address and we will send one out to you right away!

do these brackets bolt right on the easy latch could you email direction

They mount under the installation plate of the Altman Easy Latch for the 47-51 Chevy Truck. It positions the lock actuator horizontally in the door to operate the locking function on the latch. Instructions can be viewed here: Click Here

which actuators work with these brackets for a 49 chevy truck ?

Any brand actuators will work. The main purpose of the bracket is to hold it out toward the center of the door to actuate the lock mechanism horizontally.

will driver latch be able to use a outside lock cylinder if i install one

Yes. Each of our Altman Easy Latches have lock provisions installed. If you choose to add a lock cylinder to a door that does not have one, you will be able to. 

Will your latches work with electric locks?

You can use power lock actuators with the Altma Easy Latch. We offer a bracket specifically for the 1947-51 Chevy trucks to help place your power lock actuator in the correct location.

does this product make it possible to lock your doors when using your bear jaw easy latch kit?

They are brackets for holding lock actuators in the correct position to use them specifically with the Altman Easy Latch kit for 1947-51 Chevy Trucks.