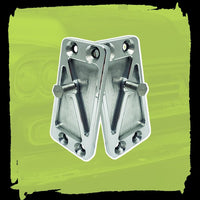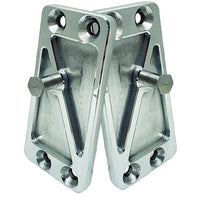 1967-72 Chevy Truck Striker Block Upgrade - Altman Easy Latches
Our Altman Easy Latch for the 1967-72 Chevy / GMC has been a great success. Now we are offering a machined billet aluminum striker block upgrade that replaces the steel plates provided with the kit. This is a great visual upgrade for your custom truck. Comes with stainless steel mounting hardware.
Striker bolts not included. Striker bolts are included in the Altman Easy Latch kit for the 1967-72 Chevy/GMC Truck.
 Do not order if you are ordering the Version 1 Altman Easy Latch.


Designed, Manufactured, and Assembled here in the USA
The Altman Easy Latch is the first and only bolt-on door latch system that allows you to keep your outside and inside door handles, as well as your outside lock cylinders. All with no welding involved. Each Altman Easy Latch kit comes with everything you will need for both doors. Make this part of your vehicle restoration project or add them to your finished ride. 
SHOP NOW
When Harold learns that the Altman Easy Latch is a safer way to make sure that his nagging wife doesn't fall out of his classic truck, will he make the right choice?
WANT A TRIQUE CATALOG?
Contact us now including your name and address and we will send one out to you right away!

I bought the striker block upgrade but since it doesn't include the actual striker bolt, do you guys sell a striker bolt for the plate??

The striker block upgrade is an upgrade that is meant to be purchased by someone that has already purchased the Altman Easy Latch for the 1967-72 Chevy and GMC Truck. The Altman Easy Latch kit comes with the striker bolts. Those same striker bolts are to be used on the striker blocks in the upgrade.

Will these work for 67-72 C10 Suburbans. I believe they have have a slightly different bolt pattern.

The standard truck kit will work on the 2 front doors. There is a difference in the striker plate for the back door. We are currently working with someone that is building a Suburban and once we have more information, we are hoping to offer it as a kit.