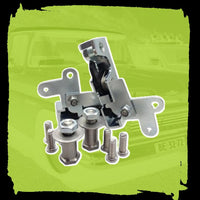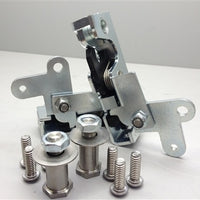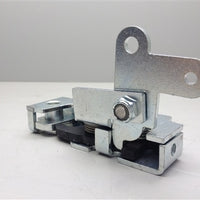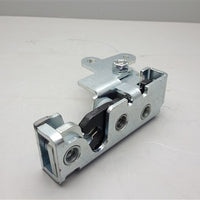 Universal Bear Jaw Latches - Altman Easy Latches
Our Altman Easy Latch line of latches are designed to be vehicle specific. Unfortunately, we don't have every vehicle covered yet. Also some projects have moved passed conventional and need something a little more universal. For those, we offer our universal Altman Easy Latch. You get all of the same benefits of our Altman Easy Latch, such as the case hardened 3/16" thick steel paws, stainless steel springs, and corrosion protecting zinc plating. You also receive stainless steel striker pins and washers. Our product is made in America and we will gladly put it up against our competition.
Specs
Universal application
Case Hardened 3/16" Internal Paws
Zinc Plated Parts Prevent Corrosion
Stainless Steel Springs
Stainless Steel Striker Pins and Washers
Latch Body Height - 3.75"
Latch Body Thickness - .75"


Designed, Manufactured, and Assembled here in the USA
The Altman Easy Latch is the first and only bolt-on door latch system that allows you to keep your outside and inside door handles, as well as your outside lock cylinders. All with no welding involved. Each Altman Easy Latch kit comes with everything you will need for both doors. Make this part of your vehicle restoration project or add them to your finished ride. 
SHOP NOW
When Harold learns that the Altman Easy Latch is a safer way to make sure that his nagging wife doesn't fall out of his classic truck, will he make the right choice?
WANT A TRIQUE CATALOG?
Contact us now including your name and address and we will send one out to you right away!

1953 to 1956 ford f100 door latches ??

https://triquemfg.com/collections/ford-altman-easy-latches/products/bolt-on-bear-jaw-door-latches-for-1953-56-ford-f-100-truck-altman-easy-latch

What Altman product do you recommend for 57-60 F-100?

At this time we do not have an AEL kit for that model. However, we do have a truck in the shop and we will be working on it soon. Please follow us on Facebook and Instagram. We will be posting updates about all new kits there and on our website.

Latches for a 48/49 ford f1 pick up ?

Click Here for 1948-52 Ford F-1 Altman Easy Latches

Latches for Model A coupe?

Unfortunately we do not make a kit for the Model A.

Does the Altman Easy Universal latches work for an 84 Chevy C10? And if they do is there any cutting or welding involved to the truck?

Our Universal Latches are a basic bear claw stayle latch with a release lever. They are not designed for specific applications, so it is up to the end user to fabricate or alter as necessary to fit it in the intended vehicle.