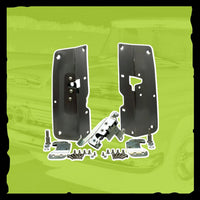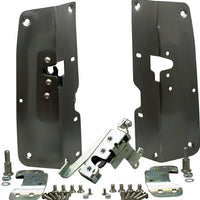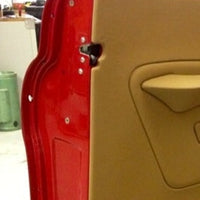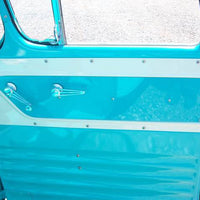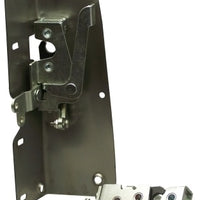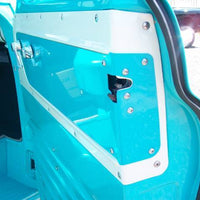 1955-1959 Chevy Truck Door Latches - Altman Easy Latches
Are you tired of slamming the doors on your 1955-1959 Chevy Truck? 
Are the latches on your classic truck not living up to the other work you've put into your pride and joy?
Face it, most classic truck door latches have been abused over the years and the available options don't offer the quality that your classic or custom Chevy truck deserves. That is where the Altman Easy Latch for 1955-1959 Chevy Trucks comes to the rescue.
Installation
  

Click Here to view "Short Panel" Instructions

 

Click Here to view "Long Panel" Instructions

Fits:

1955 Chevy / GMC Truck

1956 Chevy / GMC Truck

1957 Chevy / GMC Truck

1958 Chevy / GMC Truck

1959 Chevy / GMC Truck


Designed, Manufactured, and Assembled here in the USA
The Altman Easy Latch is the first and only bolt-on door latch system that allows you to keep your outside and inside door handles, as well as your outside lock cylinders. All with no welding involved. Each Altman Easy Latch kit comes with everything you will need for both doors. Make this part of your vehicle restoration project or add them to your finished ride. 
SHOP NOW
When Harold learns that the Altman Easy Latch is a safer way to make sure that his nagging wife doesn't fall out of his classic truck, will he make the right choice?
WANT A TRIQUE CATALOG?
Contact us now including your name and address and we will send one out to you right away!

it says bolt on ? but i see cutting door my truck just newly painted.

Our Altman Easy Latch Kit is a bolt-on kit. There is no welding necessary. You do need to cut an area from the door to make room for the new latch to sit. This area that is cut out is covered completely by the installation plate. No painting will need to be done to your door. The installation plates and striker plates are raw steel, so they will need to be painted.

I have a 58 chevy Apache half ton PU. Using stock exterior handles, also using stock interior long panel. Can I use the latches for custom panels if I cut stock panel off at door edge?

It is possible to cut off and weld your existing panel to our "short panel" installation plate. We do not provide support for doing it this was, as it was not how we intended it to be installed. However, we have seen it done successfully. Hope this helps.

58 chevy apache whats you mean long panel and short panel

If you want to retain your factory interior panel (long steel panel that runs the length of the door) you will use our long panel kit.
If you are going to remove that factory panel, you would use our short panel kit.

I purchased latches with the short panel several years ago and just completed the install. The look and work great. I did not realize there was a long panel option. Is it possible to purchase that separately? I just ordered stock interior panels

Thank you for reaching out to us about the panel options. Yes, you can purchase the long panels along with the extra hardware needed. Please give us a call at 1.866.987.4783

I am building a 59 Chevy truck and I will be ordering your Altman Latches, My question is do you have a suggestion on power lock application. Much Appreciated

There is no particular lock actuator that we recommend over another.

Can I use Kindig spoon handles with your Altman latches for my '59 Apache pickup?

You certainly can. They work great together.

If I have elect door locks and I lock the doors, then close the door, will the door remain LOCKED? Also i have panel 3 three doors. Can I purchase a driver side and 2 passenger side assembles? Thanks Walt

Our latch must be in the fully closed position before locking it. You can call us and place an order for three latches as you requested, however, the rear door is not the same as the front doors, so you will likely have to modify things to make that one work. Our phone number is 1.866.987.4783 Thank you for your inquiry.

With the latches for 55-59 $379.95 quoted is that a pair

Yes. All of our kits are sold in pairs. Each kit comes with everything you need for both doors.

I've seen the long panel kit for the door. What does the short panel look like? What is the difference between the two?

The first 3 images on the product page show the "Short Panel". The other 2 images of the blue truck, shows the "Long Panel". The Short Panel is designed to be used with a custom door panel and requires you to remove the factory interior panel. Our Long Panel is designed to work along with the factory interior panel. In the image you will see that the factory interior panel is white. The blue center section is our long panel that comes with the kit.

Can you add power door locks to the 57 pickup latches

Yes. Each latch comes with locking provisions to be used with power locks.

I bought the long panel kit. Now im thinking I want to run a full lenght door panel. Could I buy the short panels separetely? Also with this kit, can you run one piece windows?

You can purchase the short panels for your needs. You should not experience any issues installing a one piece window kit.

Are the long panel plates available separately?

If you have purchased the short panel kit and find yourself needing the long panels, we can certainly get you fixed up. Just give us a call at 1-866-987-4783

Why the long panel vs short panel ? 57 gmc I may do power windows, panel has hole for window crank , do I weld that closed or is there an option for that ?

The truck came with a long steel factory interior panel. If you plan to keep that panel, you will need our Long Panel Kit. If you plan toi remove that factory panel and not put it back on the truck, you can use our short Panel Kit which has an installation plate that stops just after it bends around the corner of the door shell. We do not have an option of our long panel kit that does not have the hole for the window crank.