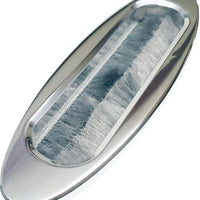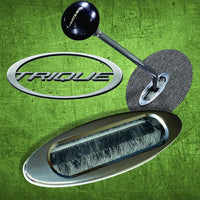 Oval Automatic Shift Bezel with Radius Edge
Our machined aluminum oval shift bezel with radius edge is the perfect way to finish off the opening in your console where your automatic shifter pokes out. Complete with brushes on each side to help prevent trash from making it's way in.
This product is designed to match our other interior products.
Dimensions:
Footprint = 3.9" X 1.1"
Opening = 3.7" X .9"
Bezel = 5.15" X 1.66"


Designed, Manufactured, and Assembled here in the USA
Trique Manufacturing designs, manufactures, and carries our range of interior products, and all in the USA. Built to last, we offer a wide range of products to perfectly fit your classic car, including A/C vents and accessories, door handles and accessories, lighting, shift bezels, & much much more!
SHOP NOW