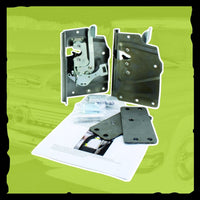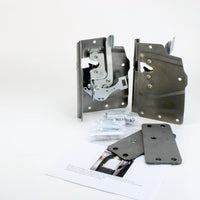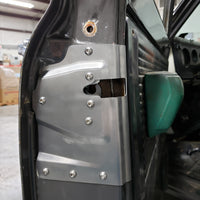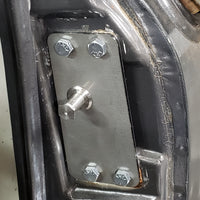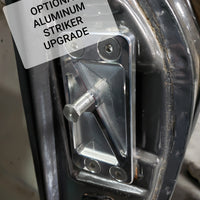 1967-1972 Chevy Truck Door Latches - Altman Easy Latches
BEFORE YOU BUY!!!!
The kit you are looking at will work with 1967-72 Chevy and GMC Trucks that have the One Piece Window Kit by Brother's Truck Parts.
It will also work with the stock window configuration.
DO NOT USE if you have or plan to install One Piece Products window kit.
Don't forget to pick up your Billet Aluminum Striker Block Upgrade. Click Here for more information.

Are you tired of slamming the doors on your 1967-1972 Chevy C10/GMC Truck?
Are the latches on your classic C10/GMC not living up to the other work you've put into your pride and joy?
Face it, most classic truck door latches have been abused over the years and the available options don't offer the quality that your classic or custom Chevy C10/GMC truck deserves. That is where the Altman Easy Latch for 1967-1972 Chevy/GMC Trucks comes to the rescue.

The Altman Easy Latch kit is a vehicle specific bolt-on, bear jaw rotary claw latch kit. This kit for your 1967-1972 Chevy C10/GMC Truck features contoured jam plates to match the features of your vehicles doors. These are in no way a universal application. Our bear jaw rotary claw latches are each designed to work with the exterior handles, interior handles, and the exterior door lock cylinders of the specified vehicles. Each piece of our bear jaw latches are zinc plated to fight corrosion. Our internal claws are case hardened and black oxide coated. Each kit comes with everything you need for two doors. Latch plates, vehicle specific bear jaw rotary claw latches, templates, hardware, detailed instructions, striker plates, and even stainless steel striker bolts. The Altman Easy Latch kit will have your doors opening and closing smoothly and safely. All of our kits are designed, manufactured, and assembled here in the USA. Each of our Altman Easy Latch Kits are available for those that wish to use them on a shaved handle application.
No welding necessary

Works with exterior handles

Works with interior handles

Works with exterior lock cylinders

Case hardened latch paws

Stainless steel striker pins

Everything you need for both doors

Made in the USA
Installation
  

Click Here to view Instructions

Fits:

1967 Chevy / GMC Truck

1968 Chevy / GMC Truck

1969 Chevy / GMC Truck

1970 Chevy / GMC Truck

1971 Chevy / GMC Truck

1972 Chevy / GMC Truck


Designed, Manufactured, and Assembled here in the USA
The Altman Easy Latch is the first and only bolt-on door latch system that allows you to keep your outside and inside door handles, as well as your outside lock cylinders. All with no welding involved. Each Altman Easy Latch kit comes with everything you will need for both doors. Make this part of your vehicle restoration project or add them to your finished ride. 
SHOP NOW
When Harold learns that the Altman Easy Latch is a safer way to make sure that his nagging wife doesn't fall out of his classic truck, will he make the right choice?
WANT A TRIQUE CATALOG?
Contact us now including your name and address and we will send one out to you right away!

I have already installed the latches on my 67 c10, can I now install kindig door handles?

Yes, you can use Kindig handles.

Will these also fit a 1970 chevy c30?

Yes

Got a 1948 GMC Pickup,would this be a complicated install?

They are a pretty straight forward install. Just follow instructions and take your time, and you can stop slamming your doors.

Iam doing suicide doors on my c10 so Iam not using door handles at all on the outside can I still use your latches

The latches would not benefit you for suicide doors. You would be better with a standard universal latch for that application.

Will the assemblies work on stock 1972 K5/Blazer doors?

Thank you for the inquiry. Yes they will work.

Will this kit work with a one piece power window kit? Thanks

It WILL work with the Brother's One Piece Window Kit.

It WILL NOT work with One Piece Products brand Window Kit.

can the 1967-1972 Chevy Truck Door Latches be welded in sorry if i missed it in the comments

They certainly can be welded in. We designed the kit to make it a bolt in for those that want an easier install. However, they can be welded in if you choose to do so.

I have 1969 Chevy c10 and have watched some videos of install of your door latches and I was wondering if you would tell me what kind of tool is that you use to cut the door for the latch?Have installed new weatherstripping and unbelievable how hard I have to SLAM my doors.

A reciprocating air saw works nicely, but others have used cut-off wheels and other cutting devices. Just depends on what you are comfortable using. 

As for the weatherstripping, that will often make doors tougher to close. Sometimes, the rubber has to be "broke-in" to relieve some of the pressure. Our latches do not fix alignment issues on doors. They are just a better working, more secure latch that will stay closed. Hope this helps some.

Will these work with the kindig door handles

Yes, all of our Push-Button style Altman Easy Latches will work with Kindig Handles

Will these work if door handles are shaved?

We have a kit specifically for shaved handle applications. When ordering, just use the drop down tab to choose "Shaved Handle Application".

What if im not running doir lock cylinders in the door can i use these with electric lock actuators

Yes, you can use power lock actuators in conjunction with our latches.

Curious why these won't work with One Piece Products glass kit.

Unfortunately the OPP glass kit leaves very little room where the latch resides. The instructions for the OPP kit call for the window channel to be pressed right up against the stock door latch. This does not allow enough room in the door to mount our latch. By embossing our installation plate, we are able to create enough room to work with Brother's One Piece glass kit. This is because the Brother's kit does not require the window channel to be relocated as much as the OPP kit. 

Can these be welded in for a more factory look?

All of our latches can be welded in. It is recommended that you install them as per the instructions and then overlap weld them so as not to change the math and geometry that the design is based on.

What is the difference besides price in the 67-72 c10 latches

The kit for 209.95 is for trucks that have shaved door handles and lock cylinders.
The kit for 349.95 is a complete kit to be used with outside handles and lock cylinders.

I'm looking at your Easy Latch kit for the 1967-72 Chevy C10. Do you need to cut your doors to use these?

As with all of our Altman Easy Latch kits, you will have to cut a section out of the corner of your door where the stock latch currently sits. We supply a template to make this cut easier and the installation plate covers the cut that is made.

Do you have a latch for 1974 Chevy c10 Will they work with remote door openers

Unfortunately we do not currently have an Altman Easy Latch for the 74 C10's.

Installed kit on 1970 Chevy c-10, My door locks are not locking doors any idea

A couple things to eliminate first:

Make sure the door latch is in the fully closed position. It will click twice when closed. If you are not getting 2 solid clicks, make sure your interior rod running from the inside handle to the latch was not cut too short. This will apply opening pressure on the latch. Lubricate everything well. If you are still having trouble the following will show some adjustments you can make:

Refering to the image below:


The lock lever (green arrow) will swing in front of the actuating paw (red arrow). Adjustments to the lock lever position can be changed by loosening the black bolt holding the lock bracket (blue arrow)

 

The bolt and nut (green arrow) can be loosened slightly to allow the lock to turn easier.

 

If you are still having issues, please call me at 1.866.987.4783 Mon-Fri 8am-5pm CST