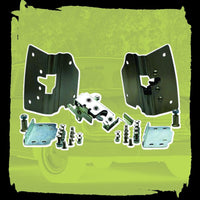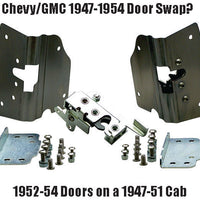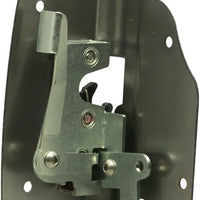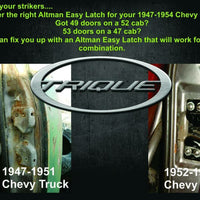 Door Swap 52-54 Doors on a 47-51 Cab - Altman Easy Latches
Do you have 1952-1954 Chevy doors on your 1947-1951 cab?
You can still install our Altman Easy Latch kit. We mix match the correct parts from both kits to get you what you need. 
Difference in the doors: 1947-51 Turn-style Exterior Handles
                                       1952-54 Push-button Exterior Handles
View images to see the difference in the striker plates
Installation
  

Click Here to view Instructions

Fits:

1947 Chevy / GMC Truck

1948 Chevy / GMC Truck

1949 Chevy / GMC Truck

1950 Chevy / GMC Truck

1951 Chevy / GMC Truck


Designed, Manufactured, and Assembled here in the USA
The Altman Easy Latch is the first and only bolt-on door latch system that allows you to keep your outside and inside door handles, as well as your outside lock cylinders. All with no welding involved. Each Altman Easy Latch kit comes with everything you will need for both doors. Make this part of your vehicle restoration project or add them to your finished ride. 
SHOP NOW
When Harold learns that the Altman Easy Latch is a safer way to make sure that his nagging wife doesn't fall out of his classic truck, will he make the right choice?
WANT A TRIQUE CATALOG?
Contact us now including your name and address and we will send one out to you right away!