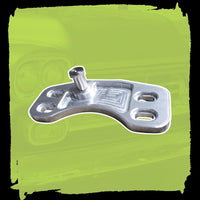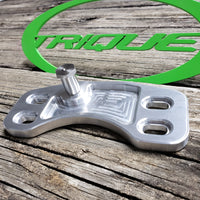 1955-59 Chevy Truck Striker Block Upgrade - Altman Easy Latches
Our Altman Easy Latch for 1955-1959 Chevy / GMC Trucks have been out for a long time. We thought it would be cool to offer an updated look to the plain steel striker plates included with the kit. So, we designed these. Billet aluminum striker block upgrade for you Easy Latch equipped 55-59 Chevy Truck. The striker blocks have a brushed finish.
The price listed above is for a PAIR of billet striker blocks.
Striker bolts not included. Striker bolts are included in the Altman Easy Latch kit for the 1955-59 Chevy/GMC Truck.


Designed, Manufactured, and Assembled here in the USA
The Altman Easy Latch is the first and only bolt-on door latch system that allows you to keep your outside and inside door handles, as well as your outside lock cylinders. All with no welding involved. Each Altman Easy Latch kit comes with everything you will need for both doors. Make this part of your vehicle restoration project or add them to your finished ride. 
SHOP NOW
When Harold learns that the Altman Easy Latch is a safer way to make sure that his nagging wife doesn't fall out of his classic truck, will he make the right choice?
WANT A TRIQUE CATALOG?
Contact us now including your name and address and we will send one out to you right away!

Are the 4 screws too hold the striker block to the panel included.

The screws that hold the striker block on are the same ones that are included in the hardware bag for the 55-59 Altman Easy Lath Kit

Are these being sold in the latch kit? I'm not buying them twice

No, they are an additional upgrade. The kit comes with steel striker plates.

Is this each or for the pair? Thanks

The price listed is for a pair of striker blocks. Price does not include striker pins.