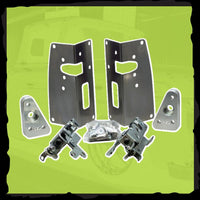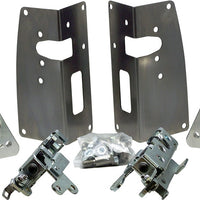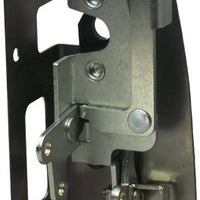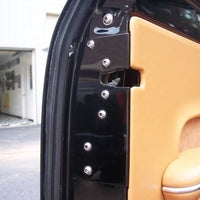 1953-1956 Ford F-100 Truck Door Latches - Altman Easy Latches
Are you tired of slamming the doors on your 1953-1956 Ford Truck? 
Are the latches on your classic car not living up to the other work you've put into your pride and joy?
Face it, most classic car and truck door latches have been abused over the years. Unfortunately, the available options don't offer the quality that your classic or custom Ford car deserves. That is where the Altman Easy Latch for the 1953-1956 Ford Truck comes to the rescue.
Installation
  

Click Here to view Instructions

Fits:

1953 Ford Truck

1954 Ford Truck

1955 Ford Truck

1956 Ford Truck


Designed, Manufactured, and Assembled here in the USA
The Altman Easy Latch is the first and only bolt-on door latch system that allows you to keep your outside and inside door handles, as well as your outside lock cylinders. All with no welding involved. Each Altman Easy Latch kit comes with everything you will need for both doors. Make this part of your vehicle restoration project or add them to your finished ride. 
SHOP NOW
When Harold learns that the Altman Easy Latch is a safer way to make sure that his nagging wife doesn't fall out of his classic truck, will he make the right choice?
WANT A TRIQUE CATALOG?
Contact us now including your name and address and we will send one out to you right away!

My 56 drivers side door does not lock. Closes great, but won't lock. It won't lock from inside the cab (pushing down on handle) or from the outside with key (key does not fully turn). Passenger door works great. What do you recommend to solve this?

The lock on the drivers side is tightened during assembly so that it will not move. This is done because the majority of these trucks do not have locks on the drivers side. You will need to remove the latch and loosen the lock lever bolt. Only loosen it enough so that the lock lever swivels smoothly, but not too loose, so as not to flop around. As for locking the doors from the inside, the Altman Easy Latch does not utilize interior locks. For locking the truck from the inside, you will need to install power lock actuators.

Will these work with door poppers.My 1953 ford f100 has no outside door handle and door poppers.

We do offer a shaved handle version of our kits. When ordering, under Choose Handle Options, you can choose the shaved handle version. This option has no locks or exterior handle levers. They will work with electric solenoids.

how do i remove the locking part on these latches I don't want to lock my truck

There is one black buttonhead screw that attaches the complete lock mechanism to the bottom of the latch. Remove it, and the complete lock mechanism will come straight out.

Will these work if I wanna put on a set of kindig flush mount door handles

They work very well with the Kindig Handles.

are these made in the us or imported???

All of our Altman Easy Latches are designed and made in the USA

Will I be able to install your latch kit in my 56 Ford as a replacement for existing bear claw latches? My truck has no exterior door handles.

That depends on how the current bear claws are installed. Download and read over our instructions, and make sure you will be able to utilize the template to make your cut out. Other than that, if the door has not been drastically altered, it should work.

I have your kit AEL 5356SH plain steel,is that latch plate available in polished stainless or chrome.Also my kit did not come with wrinkle strap for inside handle operation.

The kit for the 53-56 F-100 do not come with the replacement straps because the stock ones are already the correct length and angle. As for the plates, they are only available in mild steel.

Hi there. Should the latches work with the stock lock mechanism on my 56F100? It seems that the locks don't reach the latch mechanism. Please advise. Thanks . Gregg

You can use your stock lock cylinder along with our Altman Easy Latches. Included in your kits hardware you will find 2 small stainless steel lock cylinder replacement pins. You will need to remove the 2-prong pin from your stock lock cylinder and replace it with the one we provided.

shaved door handle kit does not tell how cable runs for solenoids. directions in your kit is for outside handles but kit is for shaved handles . need info.

Most common installation is mounting the solenoid low in the door and running a cable up and around a small pulley to create lift on the release lever. Most suppliers of shaved handle solenoids offer cable and pulley kits, but a few of our customers have told us that they find small pulleys at home improvement stores.