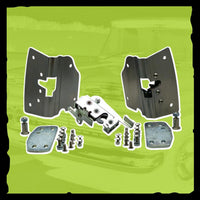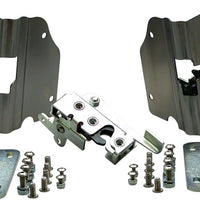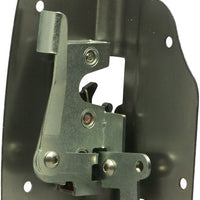 1952-1954 Chevy Truck Door Latches - Altman Easy Latches
Are you tired of slamming the doors on your 1952-1954 Chevy Truck? 
Are the latches on your classic truck not living up to the other work you've put into your pride and joy?
Face it, most classic truck door latches have been abused over the years and the available options don't offer the quality that your classic or custom Chevy truck deserves. That is where the Altman Easy Latch for 1952-1954 Chevy Trucks comes to the rescue.
Installation
  

Click Here to view Instructions

Fits:

1952 Chevy / GMC Truck

1953 Chevy / GMC Truck

1954 Chevy / GMC Truck


Designed, Manufactured, and Assembled here in the USA
The Altman Easy Latch is the first and only bolt-on door latch system that allows you to keep your outside and inside door handles, as well as your outside lock cylinders. All with no welding involved. Each Altman Easy Latch kit comes with everything you will need for both doors. Make this part of your vehicle restoration project or add them to your finished ride. 
SHOP NOW
When Harold learns that the Altman Easy Latch is a safer way to make sure that his nagging wife doesn't fall out of his classic truck, will he make the right choice?
WANT A TRIQUE CATALOG?
Contact us now including your name and address and we will send one out to you right away!

What is the material thickness of the black corner plate and the silver strike plates shown in the photos?

The latch installation plate is 18 gauge steel (.045") and the striker plate is 11 gauge steel (.1195")

Will this work on a 55 chevy 1st series truck with power windows?

Yes it will.

I have a 1953 Chevy pick-up. Will this work with vent windows? If not, do you have another option I can use?

Yes, they will work with vent windows.

I have a 54 chevy pickup, will the latches work with the SPAL Deluxe Shaved Door Kit "Shaved-DX"?

Yes, you should be able to use that solenoid kit with no issues. Our Shaved handle version Altman Easy Latch will work with any solenoid kit.

If I go with power lock actuators, do I need to make any mods to the inside door remote (that is, the inside door latch actuator arm)?

No. The lock works independently of the interior handle.

Hi, I installed kindig shaved doorhandles. Is this applicable with your shaved kit? 49 cab and doors but kindig handles. Thanks

The Kindig handles require that you have a "paddle" to press on to open the latch, so our shaved handle option would not work for you. However, our regular kit WILL work with the Kindig handles.

I have a 52 cab but using 49 doors will the latches work

They will work, but you will have to call in your order, so that we can prepare a kit with the proper parts you will need.

Will these latches work for a 1954 gmc pickup as well?

Yes they will.

If I order these for outside handles what do I need if I switch to shaved door handle

Nothing ese has to be done. If you shave the handles later on, the latches that work WITH the outside handles will still work.

hi bought a 54 chevey pickup as project has your door catches fitted how do i use remote locking on then thanks advice on this would appraciated andrew

The latches come equipped with locking provisions attached to them when they are purchased new. This locking mechanism has a connecting point coming off to the side that you can use to connect a universal power lock actuator.

what can I do to lock my doors from the inside?

Each Altman Easy Latch comes with lock provisions that can be used in conjunction with power lock actuators as a means of locking and unlocking the door from the inside and/or outside.

54 Chevy truck, So how do you lock the passenger door?

Each Latch comes with a locking provision. You can use power lock actuators to lock/unlock the doors. If you choose to not use the power option, you can purchase locking buttons for your outside handles that will lock your doors from the outside.

I HAVE A 49 CHEVY 3100 PICK-UP AND AM TRYING TO INSTALL THE KINDIG SPOON TYPE DOOR HANDLES. I ORDERED BOTH THE 49-52, AND THE 52-54 LATCHES BUT THEY DO NOT SEEM TO WORK. DO YOU MAKE A SET FOR THAT APPLICATION?

The combination of parts you mentioned are all the necessary parts to make work with the Kindig handles. However, it may not be as simple as just bolting them in and everything lining up properly. The Kindig handles rely on there being a pad to press on which opens the latch. Youu will need to either line up the handles so that they contact our exterior latch lever in the correct spot to open the door, or fabricate the necessary linkage to do so. If you have any other questions, please feel free  to reach out to us at contactus@triquemfg.com