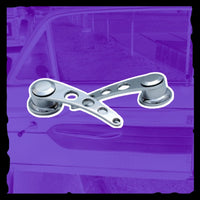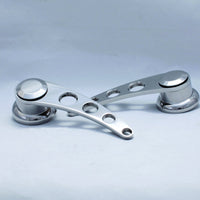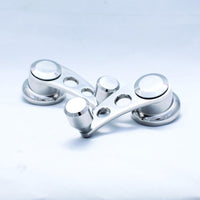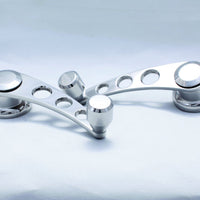 Salt Flat Series Door Handles and Window Cranks - Fully Stainless Steel
Trique Manufacturing's Salt Flat Series door handles, window cranks, and vent window cranks are inspired by the lightening holes that were found in so many nostalgic vehicles that raced the famous Bonneville Salt Flats. While the holes served a purpose on many vehicles that raced the flats, it later became a style that can be found on many custom cars today. We liked the look so much that we designed a door handle and window crank set that took the look and moved it to the inside of your vehicle. Each handle and crank is precisely waterjet cut from stainless steel then polished to a beautiful luster. The base, cap, and knobs are also machined from stainless steel and are fully polished as well. Our screw cover caps house a strong magnet that attaches itself to the heads of the mounting screws offering a secure fit while allowing you to remove it later without marring the part. Choose your door handles or window cranks below. Sold in pairs. Each pair comes with a universal mounting hubs that work on 1/2" and 7/16" splines, as well as 3/8" square shafts.
Compliments any interior.

Stainless steel handle, cap, and base.

Magnetic cap prevents marring should you have to remove it.

Universal hub fits all handle shafts.

Designed and Made in the USA
Length of Salt Flat Door Handle - 4 3/4"

Length of Salt Flat Window Crank - 4 3/4"

Length of Salt Flat Vent Window Crank - 3 1/4"

Height of handle base - 3/4"


Designed, Manufactured, and Assembled here in the USA
Trique Manufacturing designs, manufactures, and carries our range of interior products, and all in the USA. Built to last, we offer a wide range of products to perfectly fit your classic car, including A/C vents and accessories, door handles and accessories, lighting, shift bezels, & much much more!
SHOP NOW